bringing you family-friendly puppies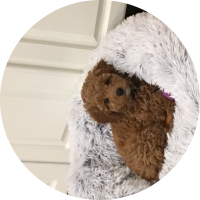 What a wonderful experience for a first time dog owner. Cooper came to us the day after Thanksgiving. He is sweet, smart and a wonderful addition to our family. Amanda has been wonderful throughout the entire process and continues to stay in contact for any and all questions that we have. Would definitely recommend our family cavaliers!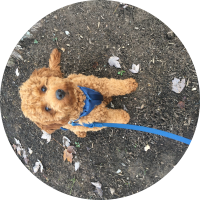 We absolutely love our Cavaopoo puppy Ruby. She has a wonderful playful and loving temperament. She is strong, healthy, and her coat is gorgeous. We get compliments about her all the time. We just love having her. Mandy from Our Family Cavaliers was helpful to work with in selecting which puppy would be a great fit for our home.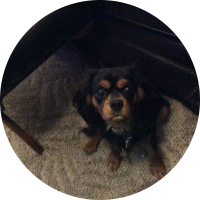 I purchased a little girl 9 months ago. She has been a great asset to our family. She loves everyone and has shown me that King Charles are the best pets for a family of kids. She has so much love. When my grandkids come around she gets so excited. She love the kids. She work to please everyone.
She is doing great. We love her so much. She is tiny. Vet says she most probably won't get over 10 lbs. She is so sweet and wasted no time in becoming part of our family.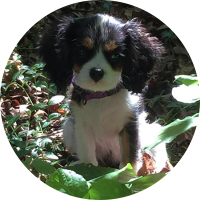 She is doing great and such a sweet girl. We are working on potty training but she does well on a leash and loves taking walks. Thanks again! Feel free to keep in touch.
We purchased a darling little girl KCC last week. We worked with Eddie over the phone and drove to pick her up after her 8 week vet checkup. It was important to us to see where she came from, her Mom and Dad and the environment in which they live. What a beautiful place, plenty of space for running and playing as well as being socialized. She was eating dry food and drinking water on her own and very playful We had our vet check her out today and she is a healthy little girl. Nothing was different about her health assessment than was given to us upon purchase. Eddie was honest and easy to work with over long distance and was the the very same in person. Very well run breeder operation and one who seems to care very much about his adult Cavaliers and pups, as well as finding acceptable homes for them. We are very satisfied and love our little girl.
We got 2 of most loving, sweetest babies, A little girl & boy. Eddie was so kind & easy to work with, when my plane was late he adjusted his schedule. As I was coming in from Alabama he met me at airport. Cameo & Romeo are so smart 11 weeks old now and pretty much potty trained leading well. Thank You Eddie they are the joy of our life.
I bought our puppy from Eddie last week. I had never purchased a pet out of state, through pay pal, or without interacting with pet first. I however fell in love with Juggernaut via pictures and had to have him as an addition to our family. So I took the chance! Eddie was great through the whole process. I asked a million questions and did my research. I live in CO and of course the pet was in OH. Eddie took care of all the arrangements (flights, health certificates, vet checks). It was painless. My new family member arrived at the airport on time and healthy. As a pet owner and Veterinarian I highly recommend Eddie as a breeder. I have already recommended him to my family and friends. Thanks Eddie!!
We purchased a puppy from Ed, he was great to work with and did not push us into making a decision to purchase a puppy. We took our time and really thought about adding another Cavalier to our family. I couldn't be HAPPIER with the puppy we chose, she is well socialized and full of spunk. I would not hesitate to purchase from this breeder again, and I will definitely recommend him to anyone looking for a Cavalier!! Thank you Ed for a GREAT puppy.
I received my sweet little Barney boy a week ago, and he is the most beautiful sweetest puppy that I ever met. My puppy came to me Via the airlines, clean flea free healthy and groomed. He also arrived with his ACA papers And health record . Barney's temperament is sweet natured, loving, affectionate, trusting, and obedient. Eddie his breeder was courteous, respectful, informative and professional. I asked him for certain vet services to be performed before he was sent, and he did them (fecal check up, frontline treatment). All went well, and there haven't been any surprises. Barney had his vet exam today and he passed with flying colors! Everyone in the office was impressed and smitten by him, and he kissed anyone who got close to his mouth! We even got asked for a referral to his breeder (Eddie) who raised this handsome and affectionate little boy. Give Ed (Eddie) a shot to make your puppy love dreams a reality, I'm so glad I did!
We adopted a fun, loving, and healthy Cavalier King Charles Spaniel from Ed and could not be happier. We could tell that all puppies were very well taken care of and vet checked. It was hard to leave with just one! I recommend anyone looking for a Cavalier to contact Ed. You will not regret it.
We purchased this puppy one week ago. We met her and her siblings. They were all well cared for. We had our vet give our puppy a full check up and she is in great health. Eddie was great to work with. I would purchase from this breeder again and have given his information to several people interested in a Cavalier King Charles Spaniel.